Albany's aggravated mugging suspect released from jail
Dougherty District Attorney Greg Edwards faults Albany Police detectives for missing evidence in failed prosecution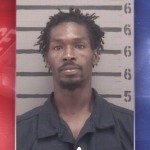 ALBANY, GA- The suspect of a high-profile Albany mugging case is free tonight, after spending months behind bars, awaiting a trial that may never come.
36 year old Jermaine Quantz Monson was arrested and charged in the brutal 2017 mugging of a senior citizen.
His alleged victim, 71 year old Carol Harper later died from injuries her family attributes to Monson's attack at the South Slappey Avenue Save A Lot.
Harper was never the same according to her daughter Lisa, who says her mom never walked again and was bed-ridden for the remainder of her life.
Harper died before her alleged attacker was taken into custody.
But Wednesday, Monson was released from the Dougherty County Jail.
District Attorney Greg Edwards blames Albany Police for the botched investigation and lacking evidence, leading to Monson's release.
Lisa Harper confirms to South Georgia Television News that Edwards has called and apologized for the evidentiary miscue.
Monson was arrested by investigators who were able to identify him by the grocery store's video surveillance system.
The video captured the brutal August 17, 2017 mugging, as Harper suffered a broken leg and several fractures to her arm and shoulder.
But that video hasn't been seen since Monson's arrest, leading to Wednesday's release from jail.
Monson allegedly took $200 dollars from the victim, who was readying to buy baking supplies before the attack.
More details as we get them, here on South Georgia Television News.