Albany State's 2021 homecoming entertainers announced
Homecoming concert open to entire community per social media post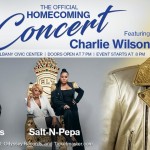 ALBANY, GA – Albany State University took to it's social media page to announce this year's lineup of entertainment for it's 2021 Homecoming concert.
The Official Albany State University Homecoming Concert featuring Charlie Wilson, Salt N Pepa, and Lenny Williams will take place at the Albany Civic Center on Friday, October 8. Doors open at 7 p.m. and the show starts at 8 p.m.
Beginning Friday, July 30 at 10 a.m. tickets will be on sale at Cafe 5.0, Odyssey Records and Ticketmaster.com.
Ticket prices start at $59.
This event is open to all ASU students, faculty, staff, alumni and community members.