Albany area Chamber of Commerce earns state accreditation
Reaccreditation from GACCE serves as a stamp of approval that we're on the right track, in terms of organizational excellence and service delivery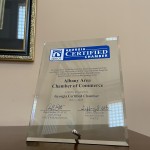 ALBANY, GA  – The Albany Area Chamber of Commerce has been awarded reaccreditation through the Georgia Association of Chamber of Commerce Executives (GACCE) "Georgia Certified Chamber" program.
Chambers must meet standards in organization, service intent and capacity, professional administration, financial management, communications and advocacy in order to achieve the designation. The certification program promotes continuing excellence in the Chamber of Commerce industry and helps to foster a pro-business environment across the state of Georgia.
"Reaccreditation from GACCE serves as a stamp of approval that we're on the right track, in terms of organizational excellence and service delivery," said Bárbara Rivera Holmes, president and CEO of the Albany Area Chamber, the region's largest business advocacy organization. "The Albany Area Chamber has implemented a three-year strategic plan, '#ImpactABY2023,' which provided many of the directives evaluated in the accreditation process. Through implementing this plan, we have been able to grow as an organization and better serve the Albany Area in our mission to foster an environment for business and community success."
Out of more than 150 Chambers of Commerce in Georgia, 16 are distinguished as 2021 Georgia Certified Chambers.