Worth's absconded sex offender sought
25 year old Aaron Bryan Jones is a convicted child molester with active warrants for his arrest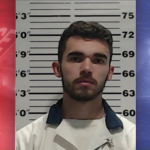 SYLVESTER, GA – Deputies in Crisp and Worth County are on the lookout for a convicted child molester who has warrants for his arrest.
Authorities say Aaron Bryan Jones removed his ankle monitor early Thursday morning and left his Worth County residence.
Crisp County deputies say they found his RV off Highway 300, but not the suspect.
Jones is described as 6′ in height and weighing roughly 170 pounds.
If you see the wanted suspect, authorities suggest contacting police and not confronting him as Jones is considered armed and dangerous.