WalMart employees charged with shoplifting
Cordele Police say the duo stole as much as $3,000 worth of merchandise from work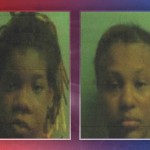 CORDELE, GA – Two employees of Cordele's WalMart have been arrested and charged with stealing goods from their place of employment.
Cordele Police say 30 year old Megan Weaver and 19 year old Jade Birt were taken into custody after WalMart management noticed the thefts back in October.
Weaver is charged with 7 misdemeanor counts of shoplifting as well as two felony counts. Weaver also faces an additional criminal count of possessing a firearm by a convicted felon.
Birt meanwhile faces eleven misdemeanor shoplifting charges along with the two felony versions of the same charge.
Police say the pair stole as much as $3,000 worth of store merchandise, some of which has been recovered.
Both were being held in the Crisp County Detention Center at last report.