Traffic stop drug bust for Vienna woman
Cordele Police say 47 year old Terra Evans was initially stopped for an expired tag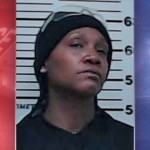 CORDELE, GA – A Dooly County woman faces multiple drug charges after her arrest Sunday following a traffic stop in Cordele.
Police say they initially pulled over a Ford Focus being driven by 47 year old Terra Shantrell Evans of Vienna, due to lacking proper registration.
Officers then discovered Evans' license had been suspended.
After her arrest, police allegedly found various pills, crack cocaine, suspected marijuana, gummies believed to be enhanced with marijuana.
Officers also say they found scales and sandwich baggies in the suspect's vehicle.
Evans was arrested and charged with marijuana possession with intent to distribute, possessing cocaine with intent to distribute, drug possession within 1,000 feet of a school, driving on a suspended license and lack of insurance.
At last report, Evans was being held in the Crisp County Detention Center.