Time and network announced for CFA Kickoff Game
UGA will face Oregon for the second time since 1977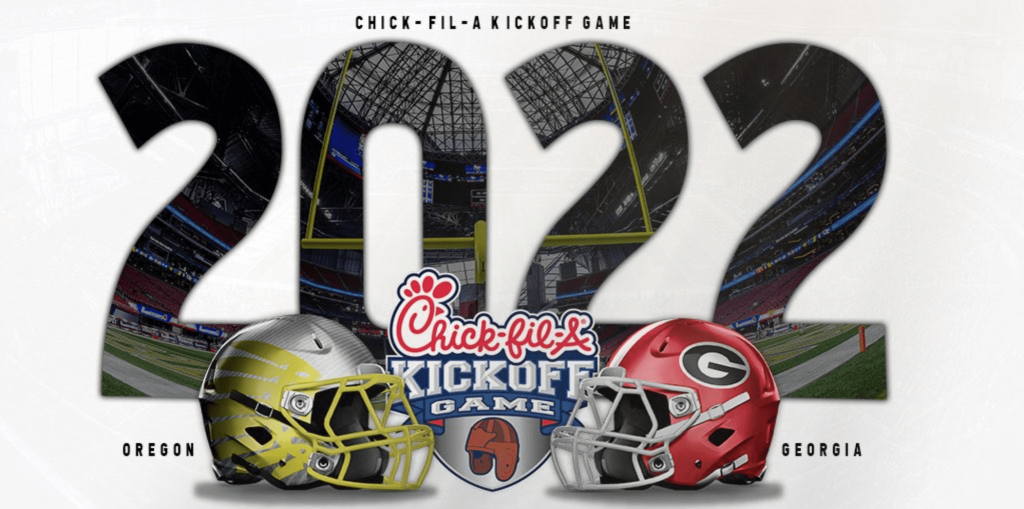 ATLANTA, GA – Officials today announced the 2022 Chick-fil-A Kickoff Game featuring Oregon and Georgia will kick off at 3:30 p.m. ET on Saturday, Sept. 3 at Mercedes-Benz Stadium.
"I can't think of a better way to kick off the 2022 season than with two projected preseason top-10 teams appearing in the Chick-fil-A Kickoff Game," said Gary Stokan, Peach Bowl, Inc. CEO and president. "We may even see one of these teams make a return trip to Atlanta on New Year's Eve to close out the season in the College Football Playoff Semifinal at the Chick-fil-A Peach Bowl."
The Oregon vs. Georgia matchup will feature the defending Pac-12 North Division Champion Ducks squaring off with the defending National Champion Bulldogs.
Georgia is making its third appearance in the Chick-fil-A Kickoff Game after it recently defeated UNC 33-24 in Kirby Smart's first victory as a head coach in 2016. Meanwhile, Oregon will appear in the Chick-fil-A Kickoff Game for the first time in the program's history. This will mark only the second time the two football programs have met after the only previous meeting resulted in a 27-16 home win for the Bulldogs in 1977.
Both teams will battle for The Old Leather Helmet Trophy, one of college football's newest rivalry-style icons. Traditionally, winners of The Old Leather Helmet don the helmet on the field after the game, starting with the head coach and then rotating from player to player as the team celebrates its victory.
The game will be nationally telecast on ABC.
Fans interested in purchasing tickets are encouraged to visit Ticketmaster.com, home to the Chick-fil-A Kickoff Game's official resale ticket exchange.
For more information, visit Chick-fil-AKickoffGame.com.