Tift deputy recovers; suspect awaits jail
GBI releases name of injured suspect in Friday shootout in Eldorado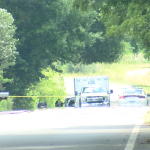 TIFTON,  GA- The Georgia Bureau of Investigation is identifying the suspect injured in Friday morning's officer involved shooting in Eldorado.
Agents say 40 year old Justin Freeman of Robbins, North Carolina will will be transported to the Tift County Jail upon his release from the hospital.
The injured Tift County deputy, identified online from the agency as Robert Owens, has been released from the hospital.
Owens reportedly suffered two gunshot wounds, requiring surgery but is now home and recuperating from his injuries.