Tift County middle schools are still collecting goodies for troops, you can help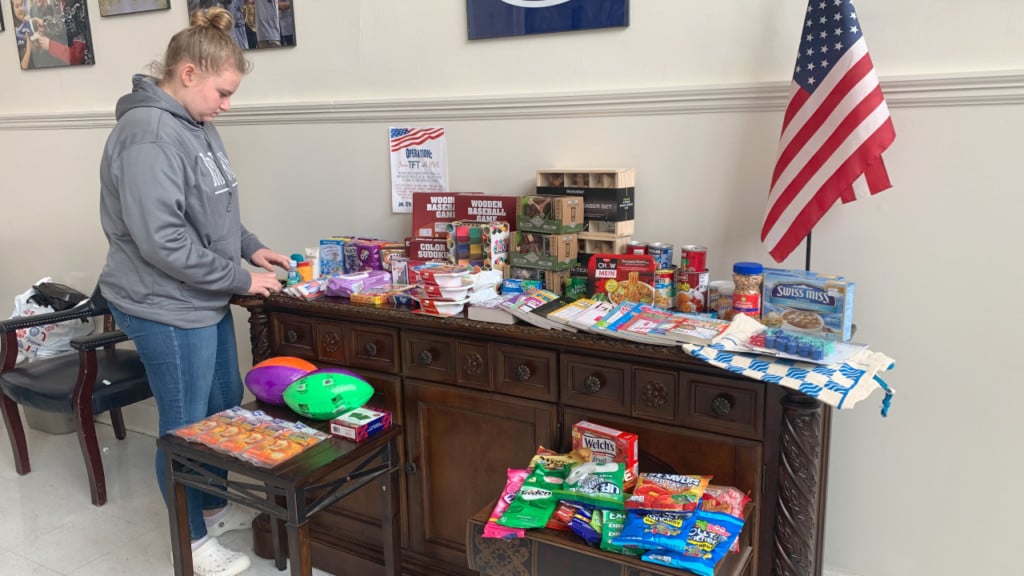 TIFTON, Ga. – Schools and some businesses in Tift County are banding together for a good cause. 'Operation: From Tift with Love' is a project with the intention of sending donated goodies to troops overseas.
The project all started at Eighth Street Middle School (ESMS) with Jackie Tipper. A science teacher and mother who's son is a marine deployed in Kuwait.
She says, "While he was deployed I spent a lot of time worrying. So instead of worrying I decided im going to do something different than worry."
With the help of students, she turned her worry into 'Operation: From Tift with Love,' a project that takes donated perishable foods, puzzles and hand warmers, packs them as two or three large shipments and sends them overseas.
Tipper says she hopes packing the shipments with reminders from home helps troops escape reality for a bit.
"I think that whenever they receive the stuff that we've collected for them, they're going to know that we're thinking about them, they're going to feel the love from home. It gets their minds out of the monotony of what's going on over there; it actually brings them back home. Gets them away from the reality of the hard times that they're going through."
ESMS student, Sariah Hathaway, says she thanks everyone who's contributed so far and wishes she could be there when the packages are opened.
"I would like want to see that, you know? I feel like they would just love to see how middle school, college and high school students are all just giving back because we appreciate them."
Tipper says that while other schools and even a hotel have joined in gathering supplies for the cause, they still need more to make their goal of three bulk shipments to Kuwait and Spain a reality. She says currently, they have enough to fill one large package.
Tipper says that the deadline to bring items in is being extended and people can make donation beyond the previous Feb. 13th deadline.
You can email Jackie Tipper at jtipper@tiftschools.com to set up a drop off date or if you're in the Tift area you can drop donations off in Northeast Middle School, Eighth Street Middle School, as well as Abraham Baldwin Agricultural College.
Items to donate include:
card games, protein snack bars, hand and feet warmers, individual drink mixes, travel sized toiletries, socks, nonperishable snacks, jerky, hard candy, puzzles, hand held games, footballs, gum, frisbees, chap stick, wet wipes, baby wipes, crossword puzzles, word search books and mints.