Tift County boys soccer triumphs over Grayson in opening round of 7A playoffs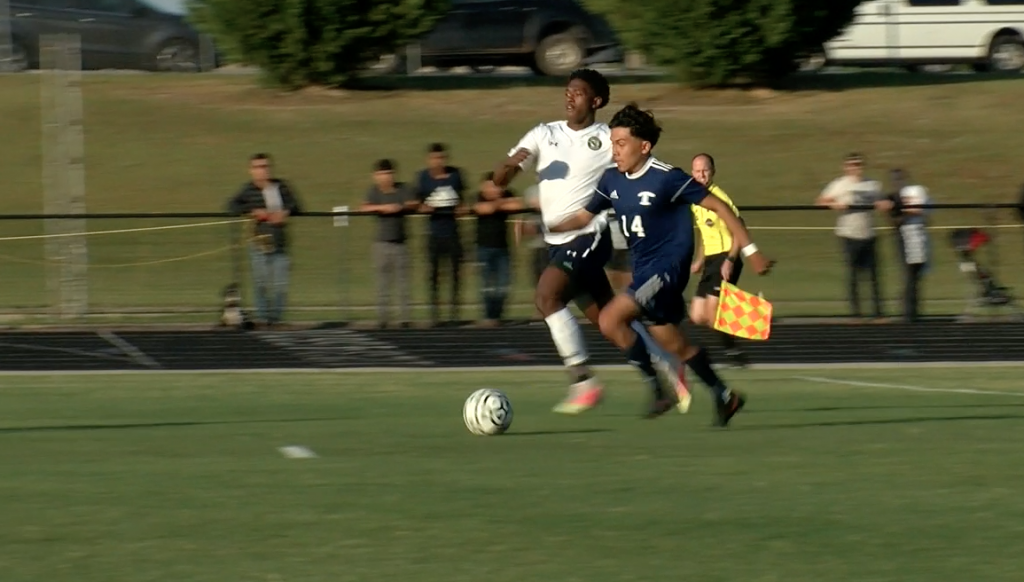 This game is a big deal for Tifton faithful. This is the Blue Devils first home playoff game since 2016. They head into this matchup after concluding a dominant regular season, losing just one game and rolling through the region undefeated.
Tift County was excited and thankful to be in front of their home crowd, but it was the road team that struck first. Grayson nets one in the 19th minute, and we are off and running.
A few minutes later, here comes Tift County on the attack. Chris Banda Banda plays a beautiful through ball to Daniel Gomez, and he's battling for the ball with Grayson's last defender. But here comes the keeper! Ryan Colvin tackles the ball away, then blocks the rebound shot with his hand! What a sequence by the sensational sophomore and the ball is cleared.
In the 26th minute, the ball is lofted over the top to junior Manny Marrin. He's behind the defense, just him and the keeper. He aims for the low left corner, Colvin gets a hand on it but he can't stop it! The ball deflects into the back of the net and we are all tied up at one goal a piece. The Blue Devils got their swagger back.
Just minutes later, Marrin already causing more problems. He slips behind the defense and delivers a pretty cross to Chris Banda Banda. Banda Banda slightly mishandles the ball and does not connect cleanly. Ryan Colvin comes up with another diving save and he'll cover up. Danger averted for this Grayson back line, but the Tift County pressure has been consistent.
To the tail end of the first half, Alexandro Garcia-Villegas plays over the top to Robel Teshome, who is working the left sideline of the field. He creates some space with some nifty footwork and fires to the near post with his left foot! But the shot is saved. Swallowed up by Blue Devil keeper Paco Ventura.
Tift County started the second half in an impressive way. In the first few minutes, Perry Mendoza scores the goal and the Blue Devils take a 2-1 lead. Tift would tack on one more in the waning minutes of this game. The Blue Devils defend their home field, 3-1 winners over Grayson, they will play Harrison at home next Tuesday in the second round of the 7A boys playoffs.