Teen faces rape charge in Lee
Deputies say Evan Ashley is a former resident who now lives in North Carolina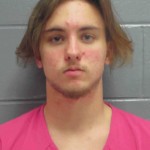 LEESBURG, GA – Lee County deputies have arrested and charged a former teenage resident for rape during his return visit earlier this month.
Deputies say that 17 year old Evan Spears Ashley currently lives in North Carolina, but on a visit back to the Leesburg area earlier this month, he's accused of sexually assaulting a victim.
According to Investigator Shawn McTyeire, the crime is believed to have been committed between September 4th and September 11th.
Anyone who may have information in the case is asked to call the Lee County Sheriff's Office and the Speciual Victims Unit at 229-759-6012.