SAM's new schedule for July
July kicks off with a Bang on July 2 on the SAM with Plains, Trains, and Fireworks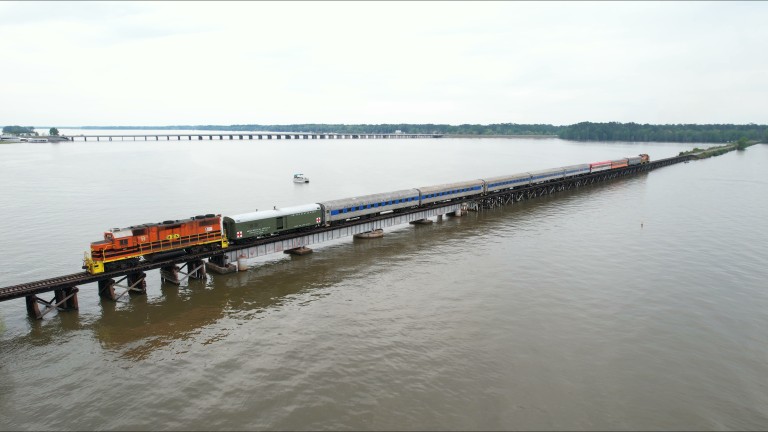 CORDELE, GA –
Beginning in July, the SAM excursion train will make a one-hour and forty-five-minute stop in Americus, as well as a one-and-a-half-hour stop in President Jimmy Carter's hometown of Plains. To accommodate the additional stop in Americus, boarding will begin earlier, at 9:00 am at Georgia Veterans State Park, and the train will depart at 9:30 am.  
At 
10:45am, the train will arrive at the Jackson Street Depot in Americus and will depart at 12:30 pm. At 1:00 pm, the train will arrive in Plains and will depart at 2:30 pm. After dropping passengers in Americus at 3:00 pm, the SAM will return to Georgia Veterans
State Park Depot at 4:15 pm.
July kicks off with a Bang on July 2 on the SAM with Plains, Trains, and Fireworks. Passengers will t
ravel from Georgia Veterans State Park to Plains to enjoy a southern-style 4th of July celebration. There will be activities for the kids, shopping, local food vendors, and a beautiful fireworks show at dusk. The train departs from the park at 6:00 pm and returns at 11:30 pm. Ticket prices begin at $39.99.
The following Saturday, July 9
th
, intrigue rides the rails for the Murder Mystery Dinner Train. Passengers will board at the Jackson Street depot in Americus at 5:30 pm for a two-and-a-half-hour round trip ride to Plains. The ride and show price, including dinner, starts at $129.99 per person. Coach seats including the mystery but no meal are $35 per person.
The wine and cheese train returns on July 16
th
.

Three trips depart from Georgia Veterans State Park at 2:30 pm, 5:00 pm, and 7:30 pm. For $89.99, passengers will taste wines from Paulk Vineyards and sample cheese and meats from local businesses.

Tickets for this train must be bought in advance.
The month wraps up with a Presidential Flyer run from Georgia Veterans State Park with stops in Americus and Plains.  Boarding begins at 9:00 am, and the train returns at 4:15 pm.
The SAM takes off in August for maintenance, so these are the last rides of the 
summer.