Reward offered for capture of Willis Glover
28 year old suspect eluded neighborhood dragnet of police and deputies Wednesday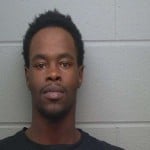 CORDELE, GA — Crisp County deputies have put a $2,500 reward in play for the informant who can lead them to Willis Glover's arrest.
The 28 year old Glover was last spotted Wednesday afternoon in a Cordele neighborhood, with a horde of Crisp deputies and police officers giving chase.
The fleet footed suspect was somehow able to elude the law enforcement dragnet by ducking into a 13th Avenue home.
Crisp County Sheriff Billy Hancock believes Glover was able to give his deputies the slip by exiting the home's back door, as officers dealt with small children on the home's porch.
Lawmen did recover a firearm that Glover allegedly dropped during his getaway, finding the weapon along Glover's path of escape.
Glover, described as 6'2, 210 pounds is wanted for more than a dozen criminal charges.
Authorities caution the public not to approach Glover, as he's considered armed and dangerous.
If you know anything on the wehereabouts of Willis Corinthian Glover, you're asked to call the Crisp County Sheriff's Department at 229-276-2690.