Reese Furlow comes to South Georgia sports
Former Palm Beach Post sportswriter signs on to WSWG-CBS44 & WSST-TV55 as South Georgia Sports Reporter later this month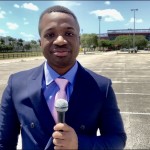 ALBANY, GA – South Georgia Television News is proud to announce the hiring of Reese Furlow as our newest Sports MultiMedia Journalist for WSWG-CBS44 & WSST-TV55, effective January 24th, 2022.
Furlow, a 2018 graduate of the University of West Florida, is a Sunshine State native but with deep roots to South Georgia, as his father grew up in Sumter County and played football for Americus High School.
Reese is by no means a stranger to the sports scene himself, coming to South Georgia Television News after a two year stint at the Palm Beach Post Newspaper, where he focused on high school sports coverage as well as being the beat writer for Florida Atlantic University sports programs.
Furlow's most recent assignment for the Post was covering the 2021 Boca Raton Bowl and Western Kentucky's big win over Appalachian State.
Reese says he looks forward to covering the best prep athletics programs here in the Peach State and South Georgia, not to mention meeting all the loyal fans.
Reese is also interested in adding all the southern delicacies he's heard about to his palate of favorite foods such as fish, fried chicken and his Mom's homemade cookies.
When not out covering the best of South Georgia's sports scene, you might find Reese exercising, reading or watching his favorite pro sports teams such as the New York Mets, the Arizona Cardinals and the Utah Jazz.
If you have a story idea or coverage suggestion for South Georgia Television Sports, email Reese at Reese.Furlow@SouthGATV.com.