Phoebe's improving Covid-19 outlook
Latest figures hint optimism in ongoing pandemic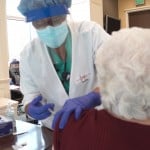 ALBANY, GA – As of Friday morning, these were Phoebe's COVID-19 numbers:
Total COVID-19 Patients in Phoebe Putney Memorial Hospital – 51
Total COVID-19 Patients in Phoebe Sumter Medical Center – 7
Total COVID-19 Patients in Phoebe Worth Medical Center – 0
Total Inpatients Recovered – 3,270
Total Positive Deaths from Phoebe Putney Memorial Hospital – 381
Total Positive Deaths from Phoebe Sumter – 97
Total Positive Deaths from Phoebe Worth – 1
Total Vaccines Administered – 69,080
"All of our COVID metrics continue to move in a positive direction.  We are especially thankful that our outstanding critical care teams have started to get some relief.  In the last two weeks, the number of COVID patients in our intensive care units has dropped 55% to 20 patients, and the number of COVID patients on ventilators has decreased 52% to 13," said Scott Steiner, Phoebe Putney Health System President and CEO.  "While our number of hospitalized COVID patients has fallen significantly from our August peak, we should not forget that we were down to eight total COVID patients in our hospitals just a little over three months ago.  Today, we are at more than seven times that amount.  That shows we are not finished with this latest surge yet.  We hope everyone will focus on the good news and continue to work to help us defeat COVID, but please remember that the virus is still being transmitted in our communities, and it remains a threat," Steiner added.
After today, Phoebe will no longer operate the mass vaccination sites it reopened when Pfizer booster shots were approved, and it does not appear there will be a need to utilize those sites if or when Moderna and Johnson & Johnson boosters are approved.  Initial COVID-19 vaccinations and booster shots will still be available at Phoebe clinics and mobile wellness clinic events.  To schedule a vaccination appointment, call 229-312-MYMD.
Saturday, Phoebe's mobile wellness clinics and vaccination teams will participate in Dougherty County's second Strive for 75 incentive-based vaccination event.  Dougherty County residents and local college students who get a first or second dose of the Pfizer vaccine will receive a $100 gift card.  The event will be from 8 am – 2 pm behind the Albany Civic Center.