Missing teen sought in Lee County
13 year old Savannah Bobe may be bound for North Florida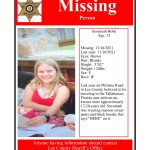 LEESBURG, GA – The Special Victims Unit of the Lee County Sheriff's Office is making a public appeal regarding a missing teen.
Deputies say 13 year old Savannah Bobe hasn't been seen since last night on Philema Road.
At last report, Bobe was wearing maroon sweatpants and a black hoodie with the letters "BEBE" on it.
The teen could be bound for the Tallahassee area with a male suspect, who could be in his late teens to early twenties.
If you have any information on the missing girl's location, you're asked to contact the Lee County Sheriff's Office at 229-759-6012.