Meet your congressman South Georgia
Georgia Congressman Austin Scott to hold meet & greet luncheon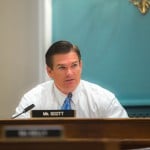 CORDELE, GA- Georgia Congressman Austin Scott (R) of Tifton, who represents the 8th district of Georgia, will hold a meet & greet luncheon later this month in Cordele.
Congressman Scott is set to visit Cordele's Community Clubhouse January 25th at noon.
For those wanting to dine, lunch will cost $10 a plate.
To make reservations call 229-273-1668 by Friday, January 10th or you can email tamala@visitcordele.com.