Lee's largest meth bust nets 3 arrests
A collaborative investigation with the GBI Southwestern Regional Drug Enforcement Office, Lee County Sheriff's Office, Georgia State Patrol, and the Drug Enforcement Administration has led to the largest methamphetamine seizure in Lee County, Georgia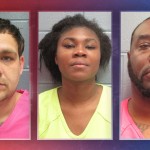 LEESBURG, GA – A collaborative investigation with the GBI's Southwestern Regional Drug Enforcement Office, the Lee County Sheriff's Office, Georgia State Patrol and the Drug Enforcement Administration has led to the largest methamphetamine seizure in Lee County, Georgia.
Arrested and charged are 28 year old Matthew Bridges of Albany, 40 year old Terrance Battle of Albany and 26 year old Quannesha Gatling.
The trio were arrested during a Friday traffic stop along U.S. 19.
Officers say 10 kilograms of methamphetamine was seized, along with 5 pounds of suspected marijuana and $1,500 cash.
All three suspects were taken to the Lee County Jail.