Haynes tabbed Exchange Member of the Year
Memorial service precedes club's installation for 2022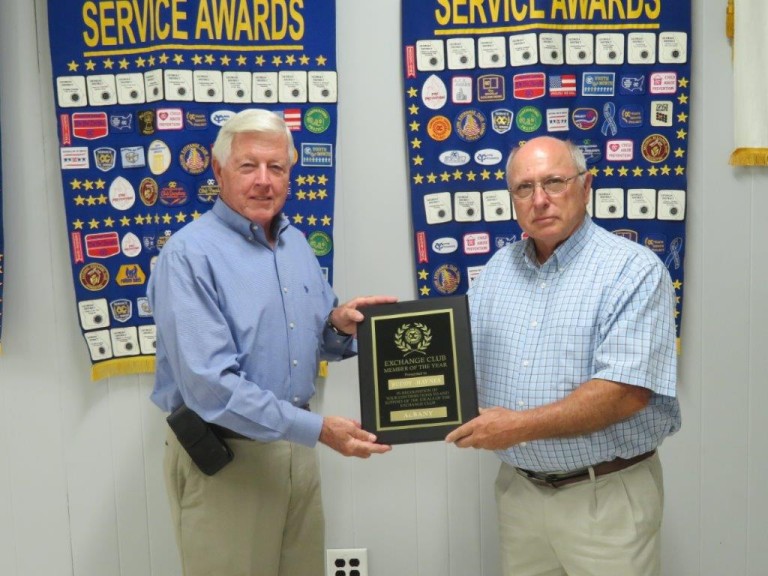 ALBANY, GA – The Exchange Club held it annual Installation Banquet and Exchange Member of the Year Friday, June 17th.  It was well attended by over 110 members and guest.
We presented the highest award an Exchange Club member can receive:  Exchange Member of the Year. The award recognizes outstanding service and club activity through participation in recruitment efforts, club leadership positions, major club committees, projects or fundraisers. The award also seeks to recognize individuals who roll up their sleeves to volunteer and have a positive attitude, not only in the club environment, but also in the community.
The Exchange Club Member of the Year was Buddy Haynes, a longtime member.  Buddy has been involved in a number of activities with the Exchange Club but most recently with the Car Show and Arts and Crafts Festival.  This has become an important Fund Raiser for the Exchange Club and has produced a number of donated auto parts and vehicles that has produced funds for the Prevention of Child Abuse.  Buddy feels strong about our other programs of Service including Americanism, Youth and Community.  Congratulations to Buddy for all you do for Exchange!!
We had our Memorial Service which Honor our Exchange Club Members that passed away during the year.  This year we Honored Jim Adkison, Randy Foster, Nelson Rushton and Bobby Johnston.  Their total service to Exchange Club of Albany totaled over 120 years.  They loved God, their family, this Country and Exchange!
The installation of our Executive Officer and Board followed our Memorial Service.   Albany welcomed National Exchange Club President-Elect David Johnson to the Exchange Club of Albany. All Exchange club members were extremely honored that President-Elect David Johnson presented the Oath of Office to our 2022/2023 Officers and Board of Directors.  The incoming President is Steve Perrine, President Elect is Terry McKay, Vice President is Dan Brewer, Secretary is Cody Jolley, Treasurer is Ray Hinman and Eli Gervero, Immediate Past President.  The Board consist of Tony Jordan, Stacey Johnston, Keith Land, Barney Knighton, Scott Wood, and Kelly Melvin.
Our last portion of the evening was the passing of the Gavel from Eli Gervero to Steve Perrine.  Both Eli and Steve expressed what an Honor it was to be chosen by the members to serve as President of Exchange.  Steve gave us his Mission Statement for Exchange and how he wants to continue the Service to our community through Prevention of Child Abuse, Americanism, Youth and Community.  His Mission for the year is:  Care. Connect. Commit!
Steve also thanked the special guest from the Georgia District for their attendance: Thad Paulk Georgia District President and his wife Jane, Sidney Blanton VFR in the Georgia District, and his wife Donna, Georgia District Youth Chairman Robert Lindsey and his son Bobby. Last, but not least, Steve said Thank You to all of the members of the Exchange Club of Albany for allowing him to lead the club for 2022/2023. 
I will be open to any and all suggestions to continue to have the Exchange Club of Albany provide the best service to make the community a better place to live.