Georgia governor visits Cordele as part of Georgia Made tour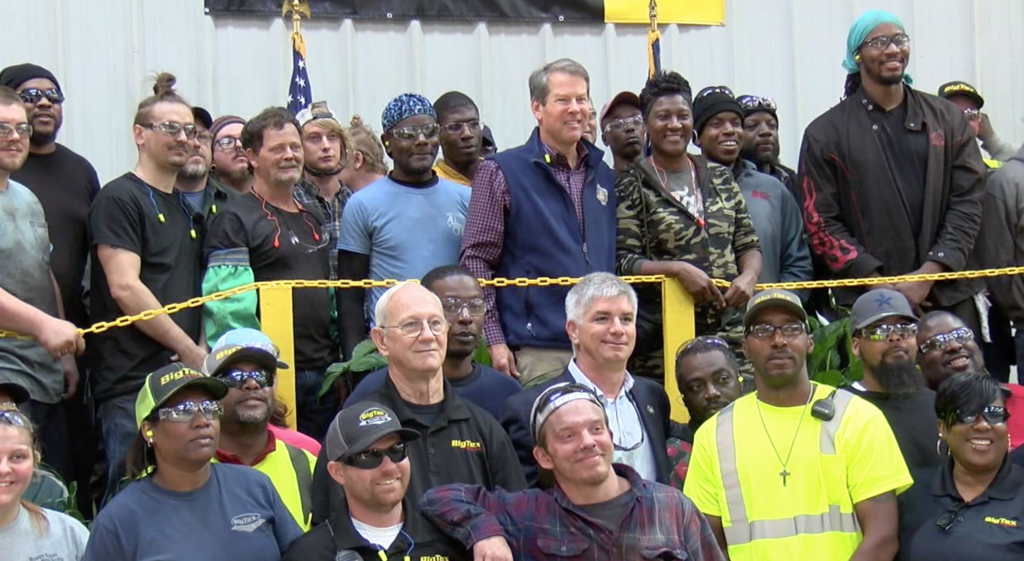 CORDELE, Ga. – Georgia Governor Brian Kemp stopped in Cordele today as part of his Georgia-made tour.
Big Tex Trailers was the ninth stop on Kemp's Georgia Made tour, a part of his continued effort to promote Georgia businesses and products while taking a look at how the state can help those businesses continue to succeed.
"I think we have a great opportunity here just like at the Big Tex facility," Kemp said. "I've toured this plant before and seen many of the trailers going down I-75. That's really what the Georgia Made tour is all about it's promoting our Georgia Made products.
"We can build anything for anybody anywhere in the world, and we need the rest of the country and the rest of the world to know that. So that when companies are looking to bring their business here or expand that they know that Georgia is a good place to do business because of our business environment and our work force," Kemp said.
Kemp toured the facility to get a glance at the day-to-day operations. He said he wants to make sure industry leaders have Georgia on their minds when they think of relocating. Kemp has implemented a rural strike team that will focus on attracting more businesses like Big Tex to the state.
Big Tex plant manager Curtis Wright said he was excited to have the governor visit and the plant employees are grateful for all he is working to do for businesses around the state especially in rural areas like Crisp County.
"It was an honor to have the governor here. I think for our business it is going to be great to bring in the economic development to the South Georgia area to the rural areas. I think it kind of ignited the people a bit. They're excited about what the governor is doing for these areas, the rural areas," Wright said.
Georgia's current unemployment rate is at 3.4% the last time the state saw a rate that low was in 1976. Kemp said he is focused on economic development and seeing even more jobs become available for the hardworking citizens of Georgia.
"We've got to make sure we continue to diversify the economy down here that gives good opportunities for all Georgians so people don't have to go off and leave to find a good paying job if they wanna stay home and raise their families where they were raised," Kemp said.