GBI reveals identity of Arabi's I-75 shooting suspect
Suspect in officer involved shooting is identified as 46 year old James Daynair Goodwin, who remains hospitalized in stable condition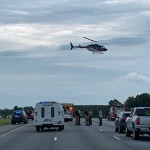 ARABI, GA – Agents with the Georgia Bureau of Investigation are now identifying the man arrested Sunday afternoon in an officer involved shooting that halted southbound traffic for nearly an hour.
Tuesday afternoon, the GBI provided the medical update on 46 year old James Daynair Goodwin, who remains in stable condition in a Macon hospital.
Goodwin was airlifted off the interstate following a gun battle with a responding Crisp County Sheriff's deputy.
Goodwin, most recently of a Las Vegas, Nevada address according to investigators, will be processed into the Crisp County Detention Center when released from the hospital.
The suspect is accused of shooting at the deputy, a bystander who offered assistance, as well as vehicles around 5pm Sunday just south of the Arabi exit of Interstate 75.
Additional charges may be pending against Goodwin, according to informed sources close to the investigation.