GBI promotes Thomaston's Kilcrease to crime lab
Deneen Kilcrease elevated to Assistant Deputy Director of the GBI Crime Lab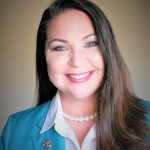 DECATUR, GA-  The Georgia Bureau of Investigation announces the promotion of Deneen Kilcrease to Assistant Deputy Director (ADD) of the GBI's Division of Forensic Sciences, or GBI Crime Lab. ADD Kilcrease will be responsible for oversight of regional laboratories and departments within the Headquarters crime lab facility. Staff include managers, assistant managers, scientists, laboratory technicians, and trainees.
ADD Kilcrease began her career with the GBI in 2000 as a laboratory technician in the Chemistry Department. In 2001, ADD Kilcrease was promoted to a Scientist in the Chemistry Department and obtained Hazardous Waste Operations and Emergency Response training for clandestine manufactured laboratories. ADD Kilcrease served on the GBI's Clandestine Laboratory Response Team (CLRT) for over a decade. In 2006, ADD Kilcrease was promoted to Assistant Manager in the Headquarters Chemistry Department and in 2015 was promoted to Manager of the Chemistry discipline statewide. From 2009-2015, ADD Kilcrease was the Assistant Quality Manager for the crime lab. From 2001-2019, ADD Kilcrease was an instructor and manager of the statewide Certified Marijuana Examiner's Course (MJ CEC). ADD Kilcrease is a member of the Southern Association of Forensic Scientists and in 2018 was honored with Life Membership of the Peace Officers Association of Georgia.
ADD Kilcrease graduated from the Georgia Institute of Technology with Honors in 1999 with a Bachelor of Science in Chemistry.
The Georgia Bureau of Investigation is comprised of four divisions: the Georgia Crime Information Center, the Crime Laboratory, the Investigative Division, and the Legal Division. The GBI has ~840 employees and a current budget of $119,761,272. Ms. Childress is assigned to the Crime Lab.
ADD Kilcrease is originally from Thomaston, Ga and currently resides in Conyers, GA.