GBI investigates 3 dead in Terrell; suspect sought
Public Affairs Director Nelly Miles confirms agents on the case as deputies look for named suspect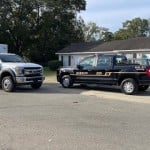 DAWSON, GA – The Georgia Bureau of Investigation confirms it is on the case of three people who were discovered dead in Terrell County Monday.
Director of Public and Governmental Affairs Nelly Miles says her agency is there by the request of the Terrell County Sheriff's Office and Dawson Police Department to investigate three deaths.
Miles terms the investigation as active.
Terrell County deputies are also looking for a potential suspect in 54 year old Larry Calloway.
From one of the crime scenes, South Georgia Television News Reporter Quinlan Parker says Calloway is believed to have shot two people fatally at one location, with a third victim killed at another locale.
Calloway is described as 6'0 in height, approximately 230 pounds with a salt and pepper goatee.
Authorities consider Calloway armed and dangerous.