GBI: 3 arrested in Pelham deadly playground shootout
17 year old Qundarion Williford fatally shot, another teen survived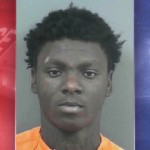 PELHAM, GA- The GBI has announced the arrests of three individuals in connection to the September 19th shooting death of a local teenager.
GBI agents say 20 year old Jaqueris Jamal Gilbert has been arrested and charged with felony murder, four counts of aggravated assault and a single felony count of possessing a firearm during the commission of a crime.
In addition to the arrest of Gilbert, agents say two juveniles have also been charged in connection to the case.
Both of the juveniles will remain unidentified due to their age but the actual charges they face were not disclosed by officials.
Police say it began late Sunday afternoon back on September 19th at a public park in the 300 block of Mize Street in Pelham.
It was there that responding officers found 17 year old Qundarioun Williford deceased from a gunshot wound and another gunshot victim who was taken to the hospital for treatment.
Agents say the three were arrested without incident in a joint effort between the Pelham Police Department and the Mitchell County Sheriff's Office.
The investigation remains active with more arrests possible.