Future lineworkers visit Crisp dam
Electrical students see power generation close up on Lake Blackshear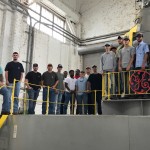 WARWICK, GA – Seventeen members of the South Georgia Technical College Electrical Lineworker class traveled to Warwick to take a tour of the Plant Crisp which is owned and operated by the Crisp County Power Commission.
   Harold Ergle, SGTC adjunct instructor for the Electrical Lineworker Porgram and retired lineman from Crisp County Power Company, conducted the tour and taught the students about hydroelectric power generation on Lake Blackshear.
   The Crisp County Power Commission is one of more than 2,200 public power systems in the U.S. providing dependable and economic power to the citizens in their communities.  The CCPC serves Crisp County, Georgia, including the municipalities of Cordele and Arabi.  They also own and operate Lake Blackshear, an 8,700 acre reservoir stretching 20 miles long on the Flint River which provides hydroelectric power to their customers.
  The members of the SGTC Electrical Lineworker class that participated in the tour included:  Blake Berryman of Griffin; Peyton Brazel of Newton; Rivers Buice of Midland; Chris Burney of Covington, Brandan Davis of Butler; Logan Frost of Leesburg; Carson Glenn of Fortson; Zavieh Mack of Newington; Jonathan Owens of Leesburg; Gavin Pickett of Opelika, AL; Aarion Reaves of Louisville, Cortavious Reynolds of Mitchell, Landon Sallee of Ft. Benning; Gavin Sinnott of Americus; Brannon Tolar of Greenville, FL; Nata Wallace of Acworth; and Luke Williams of Pinetta, FL.
   The SGTC Electrical Lineworker Apprentice Certificate Training program began in 2005 in response to industry demands to help students obtain entry-level employment with regional utility companies.  The eight-week program consists of classroom, skills field, and observation-based on-the-job training.  The program is open to anyone interested in obtaining employment as an Electrical Lineworker Apprentice.  Admission requirements include:  at least 18 years of age, must have obtained a high school diploma or GED and must obtain a  Class A CDL Instructional Permit before enrollment.  Beginning January 2022, all Electrical Lineworker applicants must have a CDL license prior to enrolling in the program.
   The 12-semester hour, eight-week class meets Monday through Thursday from 8 a.m. until 6 p.m.     In the classroom, students learn about the AC/DC electrical theory, field training, occupational safety, team work, line construction theory, line clearance, rigging, transformers, basic telecommunications, and utility metering.
   Approximately two-thirds of the program is devoted to strenuous hands-on skills allowing students to develop a high degree of proficiency in the electrical lineworking equipment and procedures.  To be employed as an electrical lineworker, students must be able to drive the trucks and trailers that carry the electrical poles.
   South Georgia Technical is one of only two technical colleges in Georgia with on-campus housing.  Lineworker students can live on-campus in double-occupancy rooms for $1350 each for the eight-week class.  That price includes 19 meals per week, access to free WIFI and cable TV.  The cost of the 12-hour program is currently $1531.  Georgia residents are eligible for the HOPE Grant and HOPE Career Grant.  Out of pocket cost for the HOPE eligible students is $119 plus dorm fees, if applicable.
   South Georgia Tech provides text books at no cost, hard hats and safety googles and vests.  Students do have to purchase workbooks, boots and gloves.