ESCAPE PLAN TAKES ALBANY MUSEUM OF ART VISITORS TO A NEW WORLD
Athens Artist Elinor Saragoussi Creates an Otherworldly Journey in AMA Gallery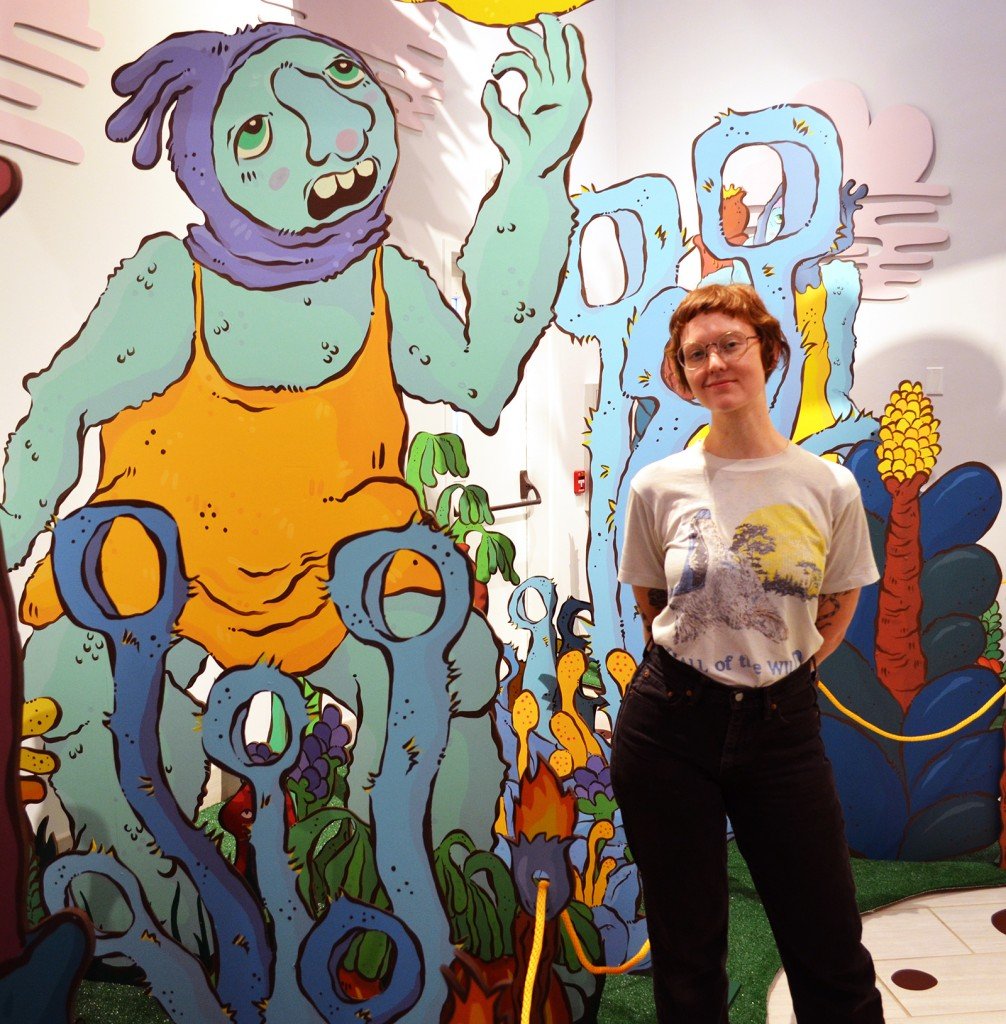 ALBANY, Ga. ─ Visitors to the Albany Museum of Art can take a journey to an alternate reality dreamed and created by Athens artist Elinor Saragoussi in her multimedia installation Escape Plan.
Peopled by colorful, otherworldly giants, animals and vegetation, and accented with a unique soundscape, Escape Plan, was designed for the AMA West Gallery, where it opened Nov 3 and continues through Feb 20, 2021. The museum, located at 311 Meadowlark Drive in Albany, is open to the public 10 am-5 pm Tuesdays, Wednesdays and Fridays, and 10 am-7 pm Thursdays. Admission is always free.
"I am really grateful to have the opportunity to straight-up build my own little world that I can escape into," Saragoussi says. "These characters—these giants—have been creeping into my work lately, especially the hood that they're all wearing in one fashion or another."
The installation is a journey down a path in the West Gallery, which connects the AMA lobby to the children's area. The trek takes the visitor past brightly colored giant characters, smaller animals and alien vegetation beneath pillowy clouds, as well as a sun, moon and birds that share the contented expressions of the giants below.
"Ms. Saragoussi has created an exciting conceptual art experience within the museum environment," AMA Executive Director Andrew J. Wulf, Ph.D., said. "In her effort to create alternate worlds, this visionary artist demonstrates early in her career a rare confidence and ability to execute a most unusual all-consuming artwork. It is gratifying to witness visitors of all ages engage so enthusiastically with this joyous and feelings-provoking piece."
AMA Guest Curator Didi Dunphy said it is rare for a museum to step outside its role as a repository of history, reverence and object to present a laboratory-like expression of artistic endeavor.
"This opportunity provides the museumgoer a look into the working artist's practice," Dunphy noted. "It is really a fantastical arrangement of imaginary creatures, plants, animals and sound.
"This is an immersive sculptural installation that includes a unique soundscape by Max Boyd, as well as gelled lighting in the gallery, really transforming your experience of visiting the museum. Rather than a white cube with an object on a wall, this is a path, a journey through an artist's working mind."
Saragoussi said she had a great deal on her mind when she came up with the idea for her gentle giants. Earlier this year, the artist and musician returned to her native Denver, Colo., to be with her mother, who underwent brain surgery.
"It was just a real intense experience," she said. "I was expecting it to be jarring, but it was especially shocking to see her in such a vulnerable state. When I walked into the hospital room, she was wearing this bandage. The only way I can describe it is it looked like a big head sock with a little hole cut out for her face. It was kind of scary and sad. She was really kind of out of it."
Saragoussi spent nearly a week with her mother as she slept and recovered from the surgery. "There was a lot of time to sit and reflect on what this all meant to me," she said. "To see my mom in a really fragile position was really hard and scary. It really stuck with me. I started drawing these figures with these hoods, head socks."
As she created the characters, she realized they spoke to her on another level as well, one that "related to how I think about myself and how I interact with the world and how I have this 'head sock' that I wear on a daily basis that kind of guards my emotions and opinions, and keeps it all wrapped away."
"I love working with characters because I feel like it's a great way for me to sort of project my own emotional state into my work," Saragoussi said. "I see this world we're in now in Escape Plan as sort of this strange purgatory where these giants that are all kind of bandaged up in their own little minds just have to wander for eternity.
"I like the balance of the lighthearted and the whimsy with a deeper level of not necessarily darkness—I feel like that sounds intense—but more melancholy and thoughtfulness."
The artist said it is important to draw visitors in with the bright colors, shapes and energy, but that she hopes her work inspires them to reflect on deeper meanings in her work or how the images relate to their own lives.
"That's the fun part about making art," Saragoussi said. "Everybody has a completely different experience, and I really love hearing feedback from different people about what they found in my work—all kinds of things I never would have dreamed of seeing in my work. It's really cool to be able to connect with all kinds of folks in lots of different ways through a visual medium."
She said she was also happy that her work in the West Gallery leads to the AMA children's area. "That's that audience I'm really most excited to create work for," she said of children. "I think they're so much more pure in their interaction with art."
Saragoussi and brothers Max and Mickey Boyd were down in late summer to view the gallery and take measurements for the exhibition. Max Boyd, Saragoussi's musical partner in the bands Baby Tony and The Teenies, and Sicky Vicky, created the charming nature soundscape that visitors hear when they visit the gallery. Mickey Boyd, she said, was "the key to all the infrastructure," building the artificial grass covered plywood platforms to which the characters and vegetation are attached. He also made sure the elements above are securely fastened.
As engaging as the exhibition is as a visitor passes through it toward the children's area, the return path to the world as we know it also holds unexpected interest. The somber, dark brown reverse sides of the various pieces reveal much smaller animals and characters peeking out from holes.
"I love working like a set design because there's always a backside," Saragoussi said. "I love the idea of having the duality of the light and carefree with the little deeper, darker—I don't want to say creepier, but it's definitely a little more contained with the limited color palette and all the characters. I see these little guys almost like termites that are burrowing their way through the infrastructure of this seemingly carefree environment that you see from the front."
She said she feels it is important for people to have real experiences that cannot be duplicated by virtual environments.
"In this age of constant stimulation and the ability to 'just Google it,' I strive to create work that draws the audience out of their reality, if even for a moment," she said. "For me, the artistic process is a quiet act of revolt against the contemporary culture of fast-paced, disposable content."
You can see and hear Saragoussi discussing Escape Plan in a video on the Albany Museum of Art's Facebook and Instagram pages, and the AMA's YouTube channel.
Saragoussi, who has a degree in biology from the University of Colorado, works in a variety of media, including felt, illustration and set design. With her bands, she is a vocalist and bass player.
Her recent work includes an installation in the Glass Cube at Hotel Indigo, a vinyl bus-wrap illustration/design for the Athens-Clarke County Government, an installation in the small sculpture case at the Lyndon House Arts Center, multiple set designs for the Athens music festival AdVerse, and a beer can label and t-shirt design for Creature Comforts Brewery. Saragoussi's work has been exhibited at TinyAth Gallery, Lyndon House Arts Center, and the Athens Institute for Contemporary Art. Earlier this year, she was awarded a Shelter Projects Grant from the Willson Center for Humanities & Arts at the University of Georgia.
The AMA is able to offer free admission in large part because of the support of its members. The museum is in the final weeks of its #FallinLoveWithArt membership drive. You can get information on how to become a member and help create a stronger community through art at www.albanymuseum.com/join.
CURRENT AMA EXHIBITIONS
* On the Wall: murals by David Hale, Shanequa Gay, Amanda Jane Burk and Chris Johnson, and paintings by Sarah Emerson, is in the Haley Gallery through Feb 20, 2021.
* Midlands, works by Courtney McClellan, is in the East Gallery through Feb 20, 2021.
* Escape Plan, works by Elinor Saragoussi, is in the West Gallery through Feb 20, 2021.
* Georgia Artists Guild of Albany 27th Annual Exhibition is in the McCormack Gallery.
ABOUT THE ALBANY MUSEUM OF ART
The Albany Museum of Art is located at 311 Meadowlark Drive in Albany, Ga., adjacent to Albany State University West Campus just off Gillionville Road. The museum is accredited by the American Alliance of Museums. The Albany Museum of Art is open to the public 10 am-5 pm Tuesdays, Wednesdays and Fridays, and 10 am-7 pm Thursdays. Admission is free.
For more information about the AMA please visit our website, www.albanymuseum.com or call 229.439.8400. Be sure to follow the @AlbanyArtMuseum on Twitter, AlbanyMuseum on Instagram and AlbanyMuseumOfArt on Facebook.