Dooly's domestic violence suspect caught again
Police in Vienna believe recently released prisoner returned to scene of previous arrest armed and ready to shoot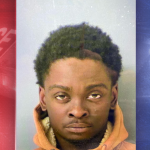 cVIENNA, GA – Vienna Police & Dooly County deputies kept a keen eye out for 21 year old Christian Collier, a domestic violence suspect who has been recaptured after he allegedly returned to his previous location of arrest this past weekend, armed and willing to shoot.
Vienna Police Chief Ketorie Sales says his officers responded to a Holiday Street address early Saturday morning to find a male victim suffering multiple gunshot wounds.
Witnesses say it was Christian Collier who was the triggerman.
Police say Collier gained entry to his former girlfriend's home by kicking in the back door, shot the victim twice and then fled the scene before officers arrived.
Chief Sales notes that Collier had just been released from jail on bond for a family violence related battery warrant at that same address.
Tuesday, Collier was captured after a short chase by Dooly County deputies and the Georgia State Patrol.