Crisp's future litigators complete Covid-19 challenged mock trial season
Local legal firm recognizes Crisp County's team in midst of adversity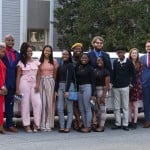 CORDELE, GA – An area law firm is hailing the completion of the 2020-2021 mock trial season by the Crisp County High School team.
The team is in it's fourth year of rejuvenation after nearly a decade of inactivity.
Local attorney Douglas Dean of Cordele law firm Lawson, Reid & Dean says this year's challenges included holding all mock trials virtually due to the Covid-19 pandemic, not to mention the death of Sergeant First Class Mark Williams, one of team's coaches.
Dean describes this year's squad as talented, spirited and dedicated to fighting opposing teams to the bitter end.
Pictured is this year's Crisp County team sans Carvin Windom.
From left to right, the Crisp County High School mock trial team includes Latoya Glenn, Major Cedric Felton, Kentashia Weldon, Jayla Rahman, Sha'niya McCloud, Billy Granville, A'Niva Duncan, Eli Lapeza, Nahkiyahs Felder, Tiffany Donohue and Doug Dean.