Crisp deputies identify burglary suspect
After a public appeal, Crisp County deputies issue an arrest warrant for Donnie Wainwright less than 24 hours later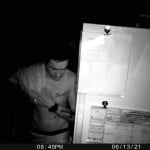 CORDELE, GA – Crisp County deputies can't complain with their public appeal for information Monday, garnering the presumed identity of a burglary suspect caught on a store's surveillance system and quickly issuing a warrant for the suspect's arrest Tuesday.
Crisp County Sheriff's Public Information Officer Haley Little says an active burglary warrant awaits Donnie Wainwright, who was identified overnight after deputies released still photos of the Sunday burglary of Flint River Outdoors.
Investigators believe it is Wainwright who is spotted on tape with a number of distinctive tattoos.
The store on Highway 280 was broken into Sunday night.
Time stamps on the surveillance video show a suspect inside the store and rifling through items around 8:45pm.
Numerous people on social media identified Wainwright as the likely suspect after the surveillance photos were posted online by the department and local media.
At last report, Wainwright was not in custody