Crisp deputies arrest burglary suspect after chase
31 year old Jeffrey Bryan of Warwick held on variety of theft, drug charges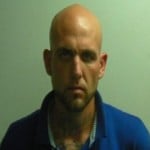 CORDELE, GA – 31 year old Jeffrey Bryan of Warwick sits in the Crisp County Detention Center after his early morning arrest Friday following a chase through Cordele and Crisp County.
Deputies say they received a burglary call from the Adult Superstore just off I-75 a little before 6:30 this morning.
The owner of the store reportedly spotted Bryan's getaway car speed out of the parking lot and followed the vehicle southbound down the interstate.
Crisp County deputies caught up to the two vehicles and eventually utilized a PIT maneuver to stop Bryan's vehicle near the Highway 41 and Highway 300 interchange, Bryan reportedly did not resist any further.
According to Crisp County Sheriff's Public Information Officer Haley Little, Bryan is being held on burglary charges, attempting to elude police officers, possession of tools in commission of a crime as well as possession of methamphetamine with intent to distribute.
Little adds that Bryan had an outstanding arrest warrant out of Worth County as well.