Covid-19 cancels Exchange Club's fair plans
For the second year in a row, the pandemic postpones fun on the midway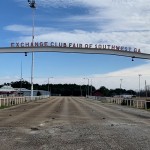 ALBANY, GA- The Exchange Club of Albany and the Exchange Club Fair of SW Georgia has decided, based on the conditions in Southwest Georgia with Covid 19, to cancel the Exchange Club Fair of SW Georgia this year.
We are very concerned for our Community and feel it is in the best interest of our Patrons, Vendors, Security personal, the Exchange Club Members and everyone else involved in assisting with the Fair to protect their health.
We will continue to work to have additional projects to raise money that we donate to our local Non-Profits but only if we can make every effort to protect everyone.
We appreciate the support we have had from Albany, Dougherty County and the surrounding counties for many years and hope to come back bigger and better next year.