Cordele city commissioner arrested at fatal traffic accident scene
Warrant issued late Friday shows new criminal trespass charge against Royce Reeves Sr.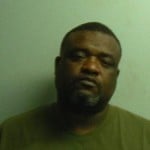 CORDELE, GA – A Cordele city commissioner is trying to secure the $2,500 bond set after his arrest last night at the scene of a fatal traffic accident.
49 year old Royce Reeves Sr. was taken to the Crisp County Detention Center shortly after 8pm Thursday.
According to Cordele City Attorney Tommy Coleman, Reeves went to the scene of a fatal motorcycle accident involving his longtime friend Adonis Sharrod Smith.
Smith ultimately died from his injuries in the accident on East 24th Avenue and 5th Street in Cordele.
Reeves arrived on scene where he was reportedly told to stay back from investigating officers of the Georgia State Patrol.
An argument between an agitated Reeves and a trooper reportedly got physical when Reeves allegedly shoved the GSP Trooper.
Late Friday afternoon, Crisp County Sheriff's Public Information Officer Haley Little says a new warrant for Reeves contains an additional charge of criminal trespass.
Reeves was initially booked on a misdemeanor disorderly conduct charge as well as a felony count of obstructing a police officer.
Coleman says if Reeves is convicted on the felony charge, he would be removed from office under Georgia state law.
Meanwhile, final arrangements for Adonis Smith are pending, but we have word that a public viewing will be held Saturday from 1p to 6pm at the Bentley Carson Funeral Home in Cordele.