Cigarette vending machine now pushes art
Local Scout hopes to inspire others by art with Eagle Project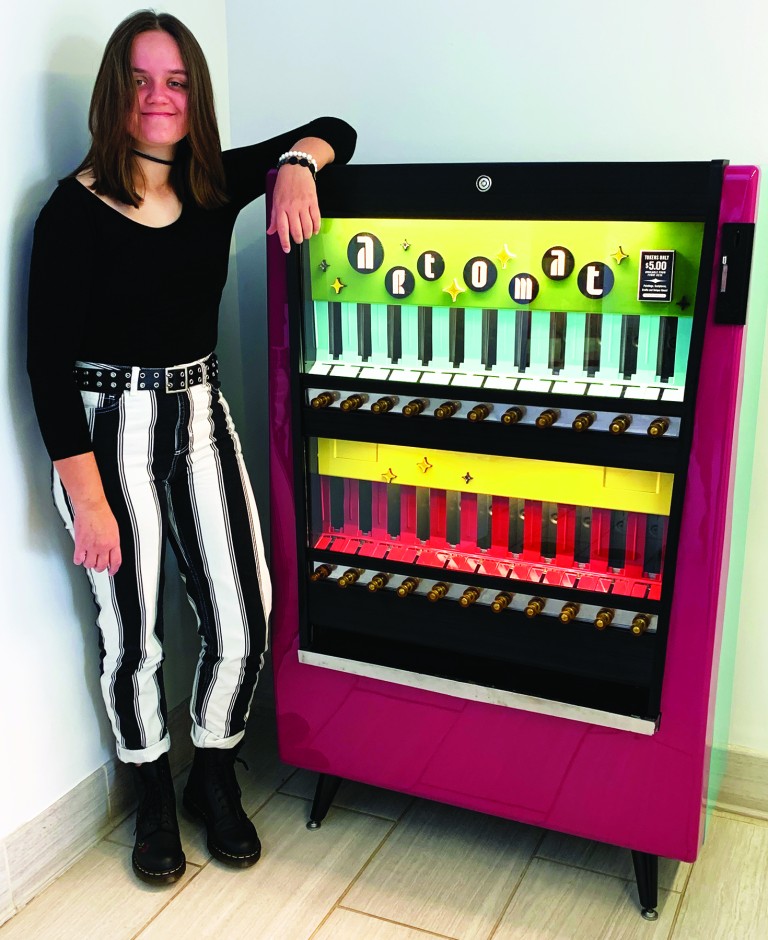 ALBANY, GA – An Albany Museum of Art Teen Art Board member's Eagle Scout project is bringing a unique art experience to Albany through Southwest Georgia's first Art-o-mat machine, which dispenses miniature artworks created by more than 400 artists from 10 countries.
Reece Ellion, a Laurel Springs School junior and a member of Scout Troop 13, sponsored by St. Teresa's Catholic Church, is using the Art-o-mat for inspiration for her Eagle Scout leadership project on Friday, May 13, from 4-6 pm at the Albany Museum of Art, 311 Meadowlark Drive. During the free two-hour event, Scouts trained in different media by Reece will teach elementary, middle school, and high school students who attend the free event.
 "I taught my Scouts different art mediums, such as painting and using paint markers, and oil pastels," Reece said. "There will be different art stations and my Scouts will be at the stations depending on what technique they learned. They will teach the kids who come in these arts."
The participants will create artworks "on little blocks that would fit in the Art-o-mat, so it's inspiring to the kids. 'Hey, you could possibly become an Art-o-mat artist in the future.' Or, just inspire them in general."
The idea to bring an Art-o-mat to Albany came to her when she saw one of the machines while on a family vacation trip to Key West, Fla. Reece, who wants to study animation in college, purchased a piece of pottery that fit into a box the size of a pack of playing cards.
"We went to a little museum and there was an Art-o-mat and I thought, 'This is really cool.' At that time, I was thinking about what I wanted to do for my Eagle project, so I asked my mom (Heidi Ellion) and she said, 'Sure, we can do this,'" Reece said. "I thought this would be a wonderful addition to the AMA. So, we got in touch with the owner of Art-o-mat, and the rest is history."
The Art-o-mat machine is a repurposed free-standing cigarette dispenser, once a common sight in stores and on sidewalks throughout the United States. It will debut in the AMA lobby at the members' opening reception for the Homecoming exhibition, set for 5:30 pm on Thursday, May 12.
For $5, a person can purchase a token at the front desk at the AMA and use it to select one of the small, original art objects in the machine by pulling the corresponding knob. One dollar of each sale stays with the Albany Museum of Art, helping the museum maintain free admission for everyone while also introducing artworks created by more than 400 artists from 10 countries to Southwest Georgia.
"In a world where Andy Warhol paintings are selling for almost $200 million apiece, the Art-o-mat concept makes the all-too-often prohibitively expensive practice of art collecting within reach to a much larger sector of humanity, by purveying charming and original art by real artists," AMA Executive Director Andrew J. Wulf, Ph.D., said. "This amenity in the AMA's lobby further drives our mission of sharing the art of the world with the South."
"The Art-o-mat is a wonderful new addition to the AMA lobby," Director of Education and Public Programming Annie Vanoteghem said.  "It will give our visitors a chance to take home a small piece of art to remind them of their time spent in our galleries. Reece Anne's dedication to The Boy Scouts, The AMA, and The Teen Art Board is incredible. Her generation is astounding me with how much they can accomplish for themselves and their community."
Reece said she became interested in Scouting because of her brother, who is a member of Troop 15, sponsored by St. Paul's Episcopal Church. "I would always see him go to the Scouting events, and I was always interested in the camping aspects," she said. Because of COVID, there were online options for pursuing merit badges and Reece would sit with him during the classes. "I didn't know they had art merit badges in Scouts," she said, adding she hopes to study animation in college.
Heidi Ellion said she is proud of her daughter's accomplishments as a Scout and a Teen Art Board member. She and Reece contacted Clark Whittington, the owner of Art-o-mat, last September after checking with the Albany Museum of Art to see if the museum was receptive to hosting a machine. "It's been a long journey, but we're excited about the results," Heidi Ellion said.
A successful fundraising drive conducted earlier this year by the Teen Art Board covered the hosting fee to get the Art-o-mat to the AMA.
The AMA Teen Art Board is a high school leadership group that each year conducts a project to help and inspire others through art. Previous projects include collecting art supplies for children who at Liberty House of Albany, a nonprofit organization that provides services for victims of domestic violence and their children, and the creation of Student Art Studio Saturday, a free monthly program at the AMA where teens can create art in community with their peers.
"The AMA Teen Art Board will be continuing projects, such as overseeing the Art-o-mat, holding Student Art Studio Saturdays, organizing fundraisers and teen art exhibitions, and so much more this fall," Vanoteghem said. "Applications to join Reece Anne and the rest of the TAB will be accepted through August for the 2022-23 school year."