Camilla's Covid-19 pop-up clinic
CORE to host a free vaccination clinic Thursday at McDonald's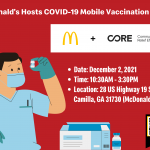 CAMILLA, GA – Camilla's McDonald's restaurant will partner with CORE (Community Organized Relief Effort) Thursday to host a free Covid-19 mobile vaccination clinic.
Free shots will be administered from 10:30am to 3:30 pm at the McDonald's located at 28 U.S. 19 South in Camilla.
"During this uncertain time, McDonald's wants to do everything it can to make a difference in the communities we serve," said Raphael Vazquez, the local McDonald's Owner/Operator. "We are excited to partner with CORE and provide this important resource to our community members."
CORE says it is mobilizing directly to communities across the country including the state of Georgia with fleets of mobile units administering vaccines, tests, and essential resources.