Call for educators to submit entries for AMA juried art exhibition
Educators as Artists Exhibition Opens March 4, 2021 at the Albany Museum of Art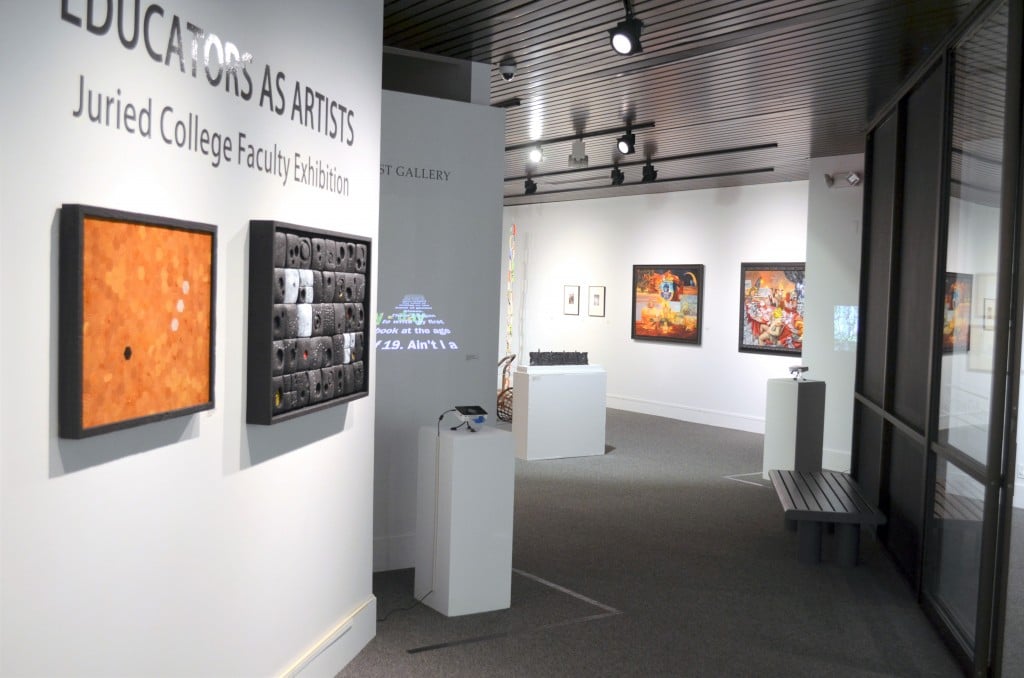 ALBANY, Ga. ─ The submission period is open for educators at South Georgia and North Florida colleges and universities to submit works for the 4th juried Educators as Artists exhibition at the Albany Museum of Art.
Educators may submit a single work or two works for consideration by sending a digital image or images of each submitted work to entries@albanymuseum.com. The submission period closes at 5 pm on Friday, Jan 22. All media are eligible.
The exhibition, which will open March 4, 2021 at the AMA, will be juried by Didi Dunphy, guest curator for the Albany Museum of Art.
Faculty members at Albany State University, Albany Technical College, Columbus State University, Georgia Southwestern State University, Valdosta State University, Florida State University, Florida A&M University, Abraham Baldwin Agricultural College, Andrew College, Thomas College and Tallahassee Community College are invited to enter. Adjunct and visiting professors at the institutions are eligible to participate.
Accepted submissions may be viewed online once the exhibition opens.
The 3rd Educators as Artists exhibition in 2019 included 20 artworks by 15 educators from seven universities and colleges in South Georgia and North Florida.
These are important dates for educators who would like to submit work for the show are:
n Deadline for submissions: Friday, Jan 22, 2021, 5 pm
n Notification of acceptance: Friday, Feb 5, 2021
n Delivery of accepted work to the museum: Monday, Feb 22, 2021
n Exhibition opens: Thursday, March 4, 2021
ABOUT THE JUROR:
Didi Dunphy, former visiting scholar and professor in the contemporary and digital media arts at the University of Georgia's Lamar Dodd School of Art, directs exhibition, educational programs and events as program supervisor for Lyndon House Arts Center in Athens, Ga. She has been gallery director and curator for Hotel Indigo-Athens and Indigo's Glass Cube Project Space since 2011, and curator for The Classic Center in Athens since 2012.
A native New Yorker, Dunphy came to Athens in 2000 by way of Los Angeles. She has an M.F.A. in the contemporary arts from San Francisco Art Institute, and is an accomplished exhibiting artist and designer. Dunphy has exhibited at major venues including the Atlanta Contemporary; The Center for Creative Arts (COCA), St. Louis; Telfair Museum in Savannah, Jacksonville Museum of Modern Art in Florida, and the Armory Center for the Arts, Pasadena, California.
GUIDELINES FOR SUBMISSIONS:
■ The artist must be an educator at a South Georgia or North Florida university or college. Adjunct and visiting professors are eligible.
■ A digital image of the artwork should be submitted to entries@albanymuseum.com by 5 pm on Jan 22, 2021;
■ The artist's name, address, email, title(s) of work(s) submitted, and contact phone number must be included in the email;
■ Each image must be in JPG format with the title of the work in the JPG name;
■ Each entry must be for an original work of the artist;
■ An artist may submit up to two entries;
■ 2D works may not exceed 36 inches in any direction and must be installation ready. 3D works may not exceed 48 inches in any direction.
■ All artworks must be under 100 pounds and installation ready.;
■ If submitted work requires specific media, all media must be included. If there is special handling instructions, these must be included in the submission;
■ There is no entry fee;
■ Each work exhibited is at the discretion of the AMA;
■ Entries submitted without complete information will be disqualified
■ Artists will be notified via email of acceptance by Friday, Feb 5;
■ Work selected for the show must be delivered to the AMA by Monday, Feb 22, 2021.
■ The artist is responsible for delivery and pick up. If shipping, the artist must arrange for return postage.
CURRENT AMA EXHIBITIONS
n On the Wall: murals by David Hale, Shanequa Gay, Amanda Jane Burk and Chris Johnson, and paintings by Sarah Emerson, is in the Haley Gallery through Feb 20, 2021.
n Midlands, works by Courtney McClellan, is in the East Gallery through Feb 20, 2021.
n Escape Plan, works by Elinor Saragoussi, is in the West Gallery through Feb 20, 2021.
n Georgia Artists Guild of Albany 27th Annual Exhibition is in the McCormack Gallery.
ABOUT THE ALBANY MUSEUM OF ART
The Albany Museum of Art is located at 311 Meadowlark Drive in Albany, Ga., adjacent to Albany State University West Campus just off Gillionville Road. The museum is accredited by the American Alliance of Museums. The Albany Museum of Art is open to the public 10 am-5 pm Tuesdays, Wednesdays and Fridays, and 10 am-7 pm Thursdays. Admission is free.
For more information about the AMA please visit our website, www.albanymuseum.com or call 229.439.8400. Be sure to follow the @AlbanyArtMuseum on Twitter, AlbanyMuseum on Instagram and AlbanyMuseumOfArt on Facebook.