APD's reckless motorcyclist appeal
Police look for suspect who fled Thursday traffic stop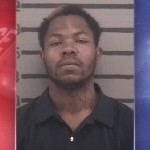 ALBANY, GA – Albany Police are looking for an off-road motorcycle rider who allegedly took off from a police traffic stop Thursday.
Officers say Anthony Taylor III is wanted for reckless driving, failure to wear required head and eye wear, stop sign violation and obstructing police.
Police say they saw a group riding dirt bikes and four-wheelers near East 3rd Avenue and Blaylock.
The officer tried stopping a man on a green and white motorcycle, who was not wearing a helmet.
The cyclist fled at a high rate of speed, blowing through the stop sign at Swift Street and escaping into nearby woods.
Police later determined the suspect to be Taylor.
If you know of his whereabouts, you're asked to call Albany Police at 229-431-2100.