APD adds $83,000 grant to crimefighting efforts
Albany Police are recipients of JAG award totaling $83,805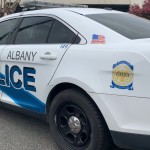 ALBANY, GA – The Albany Police Department is a little richer when it comes to funding crime prevention efforts.
APD's Public Information Officer Imani Bennett-Zackery says the department was recently awarded the Edward Byrne Memorial Justice Assistance Grant.
The grant, which is in the amount of 83,805 dollars can be used by recipients to help prevent and control crime, based on their own determination and needs.
The funds can be used in various ways, from training and personnel to drug treatment programs and crisis intervention.