Albany's latest homicide victim is a teenager
17 year old Khaliq Jackson dies from gunshot wound to abdomen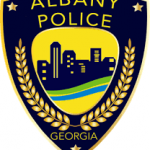 ALBANY, GA- Albany Police identify the city's latest homicide victim as a 17 year old resident.
Police say Khaliq Jackson was shot in the stomach a little before 1pm Sunday in the 200 block of Pine Bluff.
Jackson was taken to a local hospital where he later died from his wound.
No motive has been offered in the shooting nor any potential suspects.
Albany Police ask anyone with information to call 229-431-2100 or CrimeStoppers at 229-436-TIPS.