Albany's best foot forward
City of Albany to Celebrate Georgia Cities Week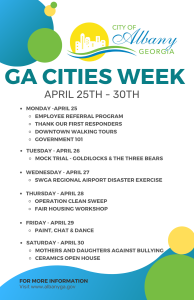 ALBANY, GA – The City of Albany will be celebrating Georgia Cities Week Monday, April 25, 2022, through Saturday, April 30, 2022.
Georgia Cities Week is an opportunity for municipalities to showcase some of the many services their city provides.
It is also a chance to celebrate the employees, partners and city leaders who keep the Good Life City moving forward.
To get all of the information on the events that will be offered, please visit https://www.albanyga.gov/about-us/city-manager-s-office/georgia-cities-week-2022.