Albany murder suspect's capture in Coweta
30 year old Tyrone Cortez Davis charged in Sunday slaying of Albany's Murray Scott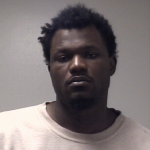 NEWNAN, GA – The 30 year old suspect accused of killing an Albany man Sunday night has been processed into the Coweta County jail following his arrest Tuesday by U.S. Marshals.
Albany Police say Tyrone Davis was picked by the Fugitive Task Force at a Newnan apartment complex in connection to the July 11th slaying of Murray Scott.
Scott was shot multiple times while walking Willow Street in Albany.
Wednesday morning, Coweta jail officials released Davis' intake photo.
We're told the mugshot was withheld as a suspect line-up was being conducted in Albany.
Police have yet to reveal a potential motive behind the shooting.
The deceased's older brother, 28 year old Telvin Scott was also hit by gunfire but has been treated and released from the hospital.
Albany Police say this is the eleventh homicide they've investigated so far this year.