Albany murder suspect arrested in Newnan
Tyrone Davis in custody for Sunday's murder of Murray Scott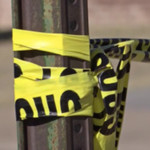 NEWNAN, GA- Albany Police say the man wanted for Sunday's murder of an Albany man was arrested and picked up earlier this morning in Coweta County.
Public Information Officer Phyllis Whitley-Banks says 30 year old Tyrone Davis was arrested around 10:30 Tuesday morning without incident by the U.S. Marshal's Southeastern Office.
Agents found Davis at a Newnan apartment complex.
He's charged with murder in Sunday's slaying of 27 year old Murray Scott, Albany's 11th homicide of 2021.
Deputies at the Coweta County Jail confirm Davis is in their custody but has yet to be processed and photographed as of press time..