Albany gunman robs store for cash & cigs
APD says they arrested a man after matching suspect to surveillance images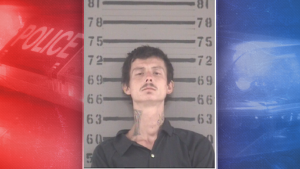 ALBANY, GA – Albany Police say they've taken an armed robbery suspect off the streets of the Good Life City.
Thursday, officers responded to the Liberty Food Mart at 413 W. Oglethorpe Blvd, in reference to an armed robbery complaint.
The store owners told officers that a white male wearing sunglasses, a white and red baseball cap, a hoodie and blue jeans entered the store and pointed a gun at the employees.
The owners said that the gun toting suspect took money and a pack of cigarettes during the hold-up.
A description of the suspect was obtained after officers reviewed the surveillance video.
Officers later found 32 year old Travis Wade in the 400 block of Flint Avenue, riding a bicycle.
The suspect was arrested after leading officers on a brief foot chase.
Police say the firearm, money, and cigarettes were found during the time of arrest.
Travis Wade was charged with Armed Robbery and was taken to the Dougherty County Jail.
If anyone has any additional information regarding this please contact Crimestoppers at 229-436-TIPS or the Albany Police Department at 229-431-2100.