Alamo's accused cop killer's sister jailed in Crisp
45 year old Charlotte Ferguson is the older sister of accused Alamo police officer killing suspect Damien Ferguson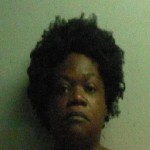 CORDELE, GA – The older sister of Alamo's accused police killer Damien Ferguson is being held in the Crisp County Detention Center, in the wake of Officer Dylan Harrison's murder.
Harrison was killed Saturday while on his first patrol for the city's police department.
Wednesday evening, the GBI revealed that the accused's older sister, 45 year old Charlotte Ferguson was arrested and charged with hindering the apprehension or punishment of a criminal.
The GBI did not elaborate on what led to the accused killer's sister being charged.
A third person also accused in the ongoing investigation is 24 year old Asia Kinsey, who faces a single count of making terroristic threats.
Agents say Kinsey made a threatening post on social media on October 9th, shortly after Officer Harrison's slaying.
Kinsey is being held in the Truetlen County Jail.
Damien Ferguson remains held in the Laurens County Jail with a new criminal charge of bias motivation and intimidation, relating to the officer's murder.