11/27/20 – Sports with Nate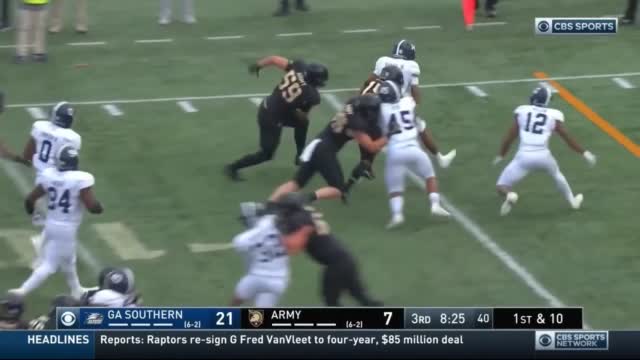 Tomorrow afternoon, we will get another big-time matchup that involves Georgia State, and it's been a busy week for the Panthers athletic program. On Wednesday, the men's basketball team outlasted Georgia Tech 123-120, in quadruple overtime. that was on the hardwood, but tomorrow's game will take place on the gridiron. Georgia State will host its bitter rival, Georgia Southern. the eagles have the better record heading into this one, they are 6-3, and 4-2 in conference play compared to the panthers who are just 4-4 overall and 3-4 in the conference. Before this game even has a chance to start, Georgia Southern is already at a disadvantage. earlier this week, Eagles running back Wesley Kennedy III and defensive lineman C.J. Wright were arrested by Statesboro Police on gun and drug charges. Linebacker Chris Harris Jr. and cornerback Ephraim Kitchen were also arrested on drug charges. Kennedy is the team's 3rd leading rusher, and has the second most rushing touchdowns on the team. All four players have been suspended indefinitely by the team. On the Georgia State side, it's been an up and down year. But the panthers have won 3 of their last 5, including a road win last week at South Alabama. Georgia State won that one 31-14, despite three interceptions from quarterback Cornelious Brown IV. Junior running back Tucker Gregg was on fire last week, as he rushed for nearly 80 yards and 3 touchdowns. Georgia Southern will be hungry, as they lost to Army by just one point the last time out. Kickoff is tomorrow at noon, in Atlanta, on ESPN3.
Just a day later, another big football game will take place in Atlanta. Although it isn't necessarily for the Falcons. Most agree, their season is pretty much shot. but the team they are playing, the Las Vegas Raiders, need a win. Right now Vegas owns the 7th seed in the AFC playoff picture, which is the last spot that gets in. The Raiders are 6-4, but so are the Ravens who sit at #8 and the Dolphins at the 9 seed. Last Sunday night, the raiders hosted the chiefs, and lost, 35-31. the raider offense played well, but the defense just could not come up with enough stops. Vegas quarterback Derek Carr may have played his best game of the season in that contest. he was 23 of 31, for 275 yards, 3 touchdowns and just one interception. Quarterback rating is measured out of 100, Carr posted a 95.1 for that game. The Falcons defense has been playing better under Interim Head Coach Raheem Morris, but they gave up too much to a Taysom Hill led Saints offense last game. also, the Falcons offense was nonexistent against New Orleans, and Matt Ryan likely had his worst game of the year with 2 picks and no touchdowns. Both Julio Jones and Calvin Ridley are  dealing with injuries, and it remains to be seen if they can play. Either way, the Falcons will try to play spoiler against a Raiders team vying for a playoff spot. Kickoff is on Sunday at 1 p.m. ET on CBS.