Poll workers fight Covid-19 at ballot box
Election officials work to keep precinct germ free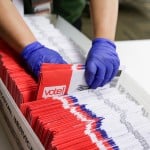 CORDELE, GA- Election Day is one week away across South Georgia and Crisp County election officials are trying to be pro-active when it comes to fighting COVID-19 at the ballot box.
Election officials tell South Georgia Television that voters will find face masks and hand sanitizer readily available for them when they walk into their polling station.
They say it's optional to wear a mask while voting, although it's strongly encouraged. Beyond requesting personal responsibility from each prospective voter, officials add that the voting machinery will be wiped down regularly.
"We actually staff more people to have available, to keep all of our things sanitized. That is just one person's job," said Becky Kitchens, Crisp County Election's Supervisor.
Officials say just under 500 early voters have already cast their ballot.
There are 13,000 registered voters in Crisp County.
Election Day is Tuesday, November 2.